What is Novel Coronavirus (COVID-19)?
Novel Coronavirus (COVID-19) is a new category of coronavirus, which causes illness in humans and animals. First identified in a cluster with pneumonia symptoms in Wuhan city, Hubei province of China.
What are the symptoms of COVID-19?
Symptoms of COVID-19 are:
Tiredness
Coughing (Dry)
Severe fever
Headache
Sore throat
Diarrhea
Symptoms can be mild to extreme depending on people's immunity and infection level
COVID-19 & Construction: 5 Ways to keep our people healthy

Generally, construction workers at most sites do not need overly special precautions beyond those already used to protect them from the hazards they encounter during their routine job tasks.
1. Tracking all employees medical records
Employees with medical history like diabetes, lung, hear and medical disorder should be given extra care and guidance. Covid-19 virus is more prone to attack people with depression and anxiety. Frequent health check up and Corecut daily exercise of HSE examination in combination with precaution on site will risk factors away.
General overview, health checkup in combination with healthy lifestyle can help and detect infections in the early stage itself. Every single person showing symptoms should be immediately undergoing Covid-19 test from the authority and to be isolated. Anyhow the test results to be assured to be confidential in all stages. This will help to tranquilize the pandemic situation with in the organization and society.
2. PPE – wearing masks & gloves
We at Corecut practice and recommend everybody wearing PPE (masks and gloves) on site and public. This will help reduce risk of touching your face skin area. Not only reduce risk of getting the virus from other, but also it stops you from giving the virus to others you aren't aware on your infection yet.
Obviously, healthcare workers and doctors must come first when protecting themselves against coronavirus. Crewmembers don't necessarily need an N95 mask.
3. Temperature Monitoring
At our Company accommodation we ensure to log in their temperature using infrared thermometers. Taking a temperature check 3 times a day is mandatory to have observations of our people, Anyhow every site working in The Dubai are compiling the safety standards and health measures are taken on site also. Thanks to Dubai Health authority and Client HSE managements.
4. Keeping distance
The biggest transmitter of the corona virus is air. Infected people coughing or sneezing will produce tiny invisible drops spaying out. You may breathe it in to get infected standing so close. Six feet distance is mandatory to keep transmission out of reach. Of course having mask and necessary PPE will lessen the chance of these droplets entering your body. Deploying working force to different location of the sites to keep safe distance from each other would be a great strategic HSE plan.
Laying out borders with cones and barricading the work area can reduce the risk of close contact with the public. Even if this virus transfers by people to people contact, People can also encounter this surfaces. Droplets from infected or sick person can transfer through materials, equipment as a medium. A Health and safety assistant on site can walk around sanitising and disinfecting work are and job completed location before mobilising next shift.
Using a mechanical or electronic sprayer will keep the cleansing part efficient. Health experts recommend frequent cleaning or disinfecting can be carried out with soap, alcohol, or bleach-based products.
The below instructions have been shared with all Corecut employees as well as with our clients and partners. We strictly implement these steps daily to ensure the safety and health of everyone working with Corecut Engineering in the U.A.E.
Our daily health practice – Covid19 Precautions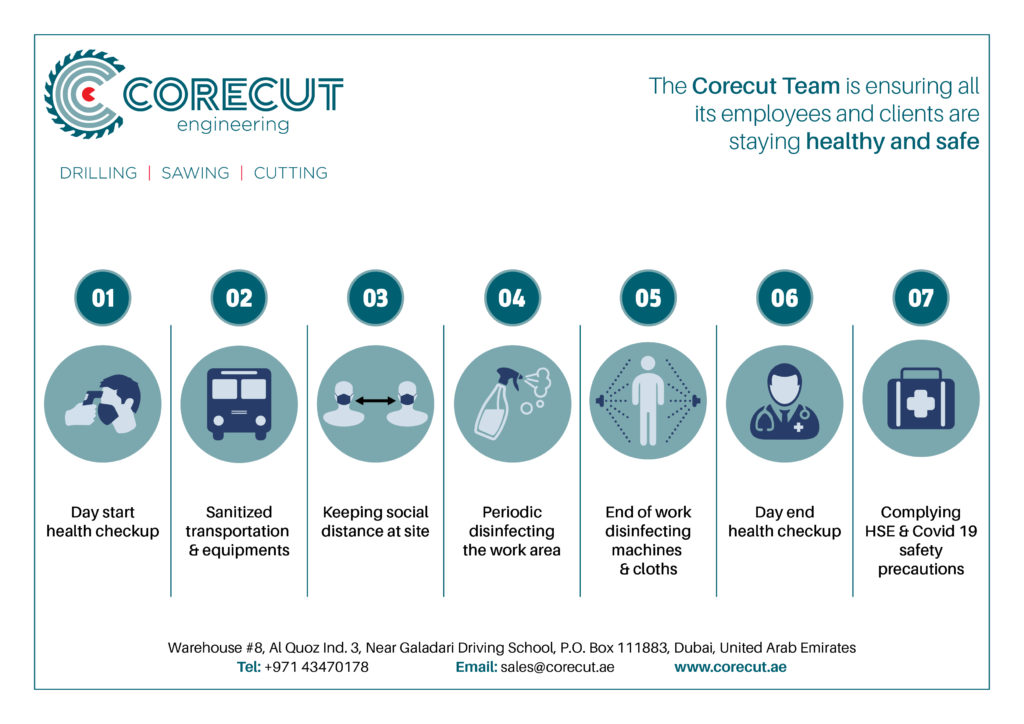 For any Corecut employees medical support; please contact:
| | | |
| --- | --- | --- |
| No. | Name / Designation | Contact |
| 1 | Mohamed Ashraf – HR Manager | 052 685 6658 |
| 2 | Amir Shafeeq – Site Manager | 055 914 7324 |
| 3 | Sanal Madhavan – Commercial Manager | 055 834 8949 |
General medical support or inquiry, please contact:
"Estijaba" service at the operation center – Department of Health at 8001717
Ministry of Health & Prevention at 80011111
Dubai Health Authority at 800342